Things to do in Seminyak, Bali: the guide for an ultimate Seminyak stay!
Seminyak is one of those hip and trendy places to visit when in Bali. It offers beautiful beaches where you can work on your tan, ride wicked waves and watch an amazing sunset. The restaurant scene is simply amazing. You'll find both simple delicious warung food and world-class upscale restaurants with divine dishes, and anything in between. Shopaholics go wild at the unique boutique shops and if you're looking to go dancing in the evenings: Seminyak has got some great options too. In short; we love Seminyak and we're happy to share a list of our favorite things to do in Seminyak, Bali!
1. Start your day right with a workout
If you're into CrossFit and keeping fit, there is no need to fall out of your healthy lifestyle whilst enjoying a sweet Bali holiday. Our favorite box is Crossfit Seminyak because of the welcoming community they have there. The coaches are amazing, knowledgeable and will make sure you'll stay in shape despite the many (delicious) distractions that Seminyak has to offer.
2. Enjoy a delicious breakfast or brunch
Of all the things to do in Seminyak, make sure you'll get out of your hotel and enjoy one of the super delicious breakfasts and brunch options this town has to offer. For all you foodies out there, here is our top 5 fav spots for breakfast and brunch:
Nalu Bowls Shelter Cafe: a little taste of paradise
To all the smoothie bowl lovers out there: you gotta visit Nalu Bowls. They offer delicious and healthy bowls, in their own words 'A little taste of paradise' and we couldn't agree more. From a peanut butter bowl to a superfood bowl, to pick one won't be easy.
Cafe Organic: a healthy start of the day
The first Cafe Organic was opened in Seminyak, but now you can also find them in Canggu and Kerobokan. At Cafe Organic Seminyak they serve, breakfast, lunch, snacks, toast and several kinds of bowls so you can't go wrong here! Fancy a Chia Cup or Gangsta Toast? Accompanied by kombucha, homemade milk or a fresh cup of coffee and you're good to start your day!
Revolver: for coffee lovers
Revolver is all about coffee, you can even buy their unforgettable beans to take home. But besides coffee, you can enjoy an all-day breakfast and even a breaky cocktail, yum!
Sisterfields: all-day brunch
Sisterfields Cafe is a hip and trendy little joint that serves an all-day Australian brunch. Enjoy a kale breakfast bowl, salmon benedict or a Sisterfields Big Breakfast to kick-start your day – alongside some of the islands best coffee!
La Lucciola: the perfect Sunday brunch spot right at the beach
The perfect place for weekend brunch is La Lucciola, a beachside restaurant. The food is finger licking good; Italian with a hint of Asian flavors. Make sure you've got a table upstairs at the balcony so you can enjoy the view on the ocean. Reservations are necessary!
3. Shopping Seminyak Bali
Filled up your tummies and ready to shop till you drop? Welcome to Seminyak, shop heaven! Besides several markets, you should visit Seminyak Square with a large range of shops. Seminyak also has many wicked boutique and design shops for you to get clothing, jewelry, shoes, and bags. Prefer a more authentic Balinese touch? Stroll on one of the two traditional markets of Seminyak with fresh produce and traditional products.
4. Day trips from Seminyak
Fancy doing something outside of Seminyak? There is plenty to see and do around this beach town, so here we go!
Get your fun on at the water splash park 10 minutes north of Seminyak. The world-class water slides guarantee a fun, adventurous and wet day. And if you think this is for kids, you're wrong. 5 story high slides, 90 meters long equals fun for everyone!
Get your water Splash Day Pass here >>>
Don't enjoy waterslides much? Well, how about a speedy jungle buggy adventure!? Drive through rivers and on rough terrain and have fun in a gorgeous environment.
Book your ATV jungle buggy adventure here >>>
Want some action? Showcase your white-water rafting skills during a rafting tour at the Ayung river or Melangit river.
Book your rafting adventure here >>>
It's great to get out of Seminyak for the day and discover the funderwaterzone around Bali. A snorkeling day trip to the island of Nusa Lembongan will show you three amazing spots with colorful coral and tropical fish. A nice beach lunch is included on this trip.
Book your snorkeling trip to Nusa Lembongan >>>
More things to do in Seminyak and around
5. Try the vegan scene of Seminyak
Even meat lovers should try at least one of the many great vegan options in Seminyak. We promise you won't miss your usual meat intake when trying out any of these vegan options.
Kynd Community: whoever said veggies have to be boring
One of the best vegan restaurants in Seminyak is Kynd Community. At this plant-based joint they serve breakfast/lunch, dinner, and cocktails. Our favorites: anti-cruel platter and a freakshake or a love mug and a delicious salad bowl. Still hungry? Check out their epic vegan ice-creamery on the way out!
The Earth Café: good quality plant-based food
For good quality plant-based food, you should most definitely try The Earth Cafe. They've got a large menu to choose from, so there is always something on it you'll like! And the great part is, there is also a healthy food market with cosmetics, dried food, raw snacks, and grains.
Zula Vegetarian Paradise
This little paradise has got a huge creative vegetarian menu. Zula Vegetarian Paradise is one of our fav spots in Seminyak! Perhaps not the cheapest vegan option, but the tasty food, friendly staff and location close to both the beach and shops makes this a perfect place for lunch!
Tasty Vegan
Would you prefer some traditional Balinese food, but vegan? Tasty Vegan the place to be! From BBQ skewers to Gado-Gado with homemade peanut sauce.
6. Get a tattoo in Seminyak
Would you like a souvenir from your Bali trip? Instead of a fridge magnet or an 'I love Bali' t-shirt, you could get something more permanent like a tattoo! Seminyak, Kuta and Legian have got plenty of tattoo shops for you to get a permanent souvenir. One of the shops that we really like is Bali Famous Ink.
7. Have a cocktail at a lush beach club
We'd say it's always 5 o'clock somewhere in the world! There are endless options for trendy beach clubs in Seminyak that offer extensive cocktail menu's all day long. Definitely try out Tropicola Beach Club Bali for a refreshing berry cocktail and some finger food. Or head out to KuDeTa, one of the first beach clubs in Seminyak with stunning ocean views. And of course, the most famous beach club of them all, Potato Head Beachclub, can't be missed: they've got a gigantic pool, relaxing music and yummy cocktails.
If you're up for a nice surprise this cocktail Seminyak tour will take you on  In 5-6 hours journey along great venues offering amazing cocktails and food. We'll take you to 3 different places where you'll enjoy 8 full-sized dishes paired with the best cocktails.
8. Get a relaxing massage
While visiting Bali you just have to get a relaxing massage. The Balinese know the human body very well and they know what they're doing when it comes to massages. A relaxing Balinese oil massage is a perfect way to end the day at the beach and to start your evening. Two of our favorite spots in Seminyak are:
Jari Menari Spa: dancing fingers
Jari Menari (which means dancing fingers) is one of the best wellness spas in Seminyak to get a massage. They've got a large spa menu with treatments like a pregnancy massage, foot massage, a four-hand massage, but also a flower bath or a power nap guided by music are on their menu. The best choice might be the Gourmet Massage. After a welcome drink, you'll enjoy a massage followed by a healthy lunch on the rooftop. Tip: good fun for your hen party or birthday!
Montigo Resorts
Montigo Resorts has got an epic day spa with unreal prices. They've got something to offer for everybody. From a Couple Spa Experience to an Organic Fruit Spa. Get yourself pampered in a beautiful and relaxing environment and let the highly-skilled massage therapists work their magic!
9. Enjoy the best restaurants in Seminyak
This list with things to do in Seminyak wouldn't be complete without our recommendations for great restaurants. There are always popping up new venues as Seminyak is, together with Ubud, Bali's culinary hotspot. Fancy dinners for reasonable prices are a given and therefore a must. We list our favorites:
Sarong Bali
Looking for delicious food in a romantic setting? Have a look at Sarong Bali which offers an excellent ambiance, good service, and a superb experience. Highly recommended by us!
Restaurant MamaSan
Another gem is Mama San. Stylish decor, magnificent staff and food to die for. Reservations are recommended.
Motel Mexicola
You might think you've ended up in Mexico when having dinner in this restaurant. It is completely in Mexican style with bright colors. It's a sharing style experience with all the Mexican favorites like nacho's, tacos and postadas. Can't get more Mexican in Bali than Motel Mexicola!
Barbecoa
For a South American inspired chargrilled feast, you would want to go to Barbecoa. Their chorizo with octopus is next level and the atmosphere is relaxed.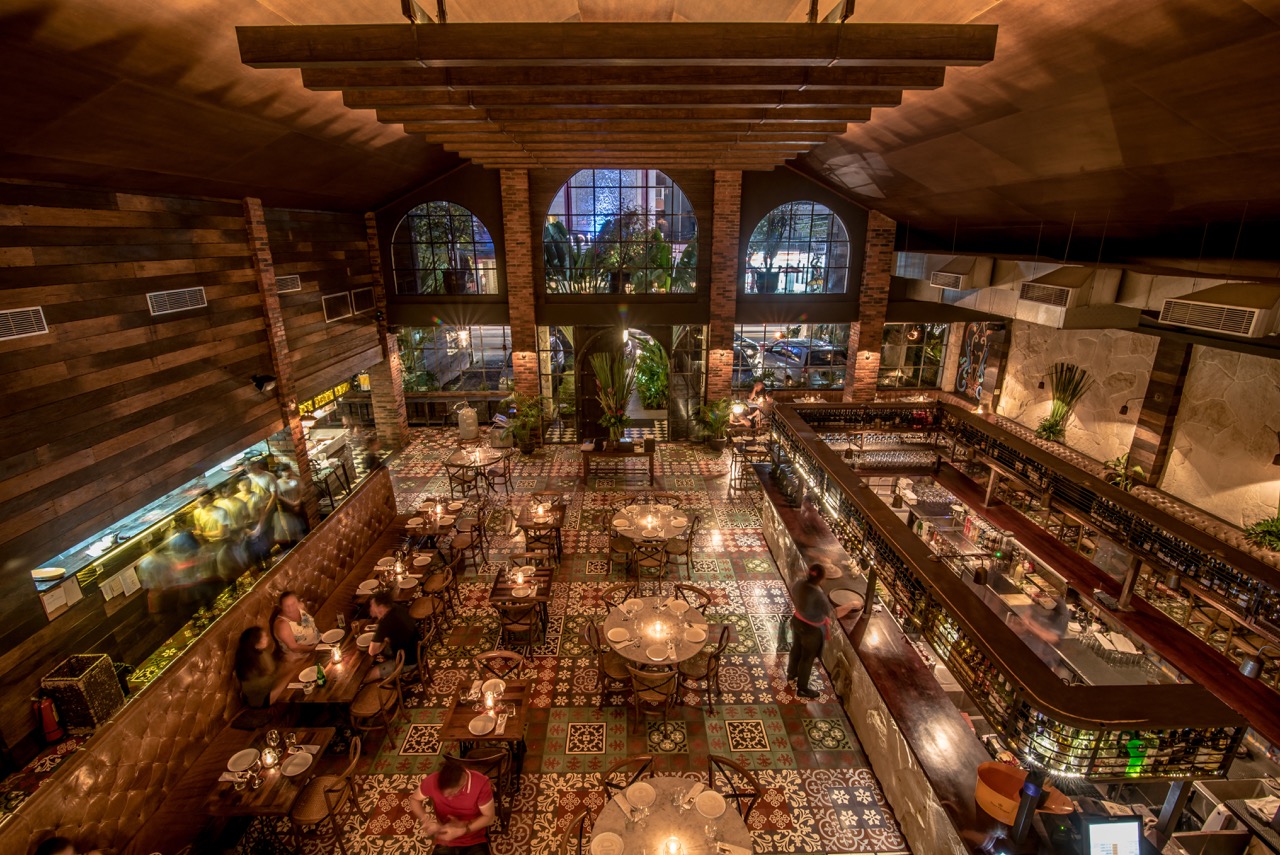 Kilo Bali
Kilo Bali has a great ambiance with something for everyone on the menu. The food is tasty and delicious and welcoming staff will make your evening complete.
Saigon Street
Saigon street is top notch and serves epic Vietnamese street food, amazing cocktails, and their chocolate molten dessert is our favorite ever!
The ultimate culinary experience in Seminyak
For you foodies out there, you could also join our Seminyak Ultimate Culinary Experience which takes you along the best restaurants of Seminyak. During this tour, you will taste the best food in the top 4 restaurants of Seminyak or surroundings. This will be for sure an evening to remember!
Looking for a high-end luxury food experience? Our helicopter tour Bali takes you along three remote destinations on the island. At each venue, your taste buds will be positively surprised. The best chefs on the island prepare only the most delicious dishes with perfectly matching wines and/or cocktails.
Check all our Seminyak tours >
10. Have a cold beer and enjoy a Seminyak sunset
Seminyak is famous for its stunning sunsets, so it is a must to be at the beach around that time! Get some cold beers from a local supermarket, spread out your sarong on the beach and wait for the sun to set. Or make yourself comfortable at a sunbed at one of the many restaurants at the beach. Either way, it is sunset you will never forget!
11. Go on a tasty food tour in Seminyak
Seminyak has got so many good restaurants to offer that it might be hard to choose from, because how will you know which restaurants really are the best? Well, we've got you covered! How about going on a tasty food tour Seminyak?
The Seminyak Restaurant Discovery is a 3-venue tour where we will take you to 3 of the best Seminyak restaurants. You'll enjoy up to 9 mouthwatering dishes, starting with a stunning sunset and ending up with a tasty dessert. The fun part is that the restaurants will not be revealed to you until the last minute! Please check our food tours Bali if you would like to know more.
12. Go dancing
After all the delicious food, the shopping, the message, and the tattoo, it is time to put your dancing shoes on! This is our top 4 places to go dancing on the weekends:
Friday nights in La Plancha
La Plancha is a very popular beach spot where it is always busy. After you have enjoyed the sunset and some delicious tapas, this place transforms into a hip and trendy beach club. Especially on Friday nights, this is the place to go dancing. They have regular parties with various DJ's and performances.
Red Carpet Champagne Bar
Different from other bars in Seminyak is Red Carpet Champagne Bar. The outstanding staff welcome you in red bellhop costumes and offers quality service. The ground floor is for finger food and dinner, the first floor is for dancing on pop music from the 70ties, 80ties, and 90ties.
La Favela
This is one of the hot spots on Bali that you just can't miss. La Favela is hip, trendy with a quirky vintage style look. It's a very big club with 4 (!) floors with several lounges. The DJ's play funk, urban and reggaeton, besides other music styles. Make sure to arrive before midnight on Saturdays to avoid a long queue.
Motel Mexicola
Not just for dinner is Motel Mexicola a little gem, but also to go dancing! When dinner is over and your tummy is full, hit the dance floor till after midnight!
13. Go surfing or take a surf lesson
Seminyak is perfect if you want to learn how to surf or if you're an advanced surfer. Depending on the conditions, the waves can get pretty wild with strong currents which make it challenging for advanced surfers. If you're just learning to surf, it's smart to join in on a class so you get insight into the best times and places to hit the waters with your board.
Book your surf lesson here >>>
Where to stay in Seminyak Bali
Now that we have covered the things you can do in Seminyak, you'll also need a place to stay in this trendy beach town. We have made a selection for you of our all-time favorites.
Upgrade your Seminyak holiday with a stay at W Bali. This 5-star hotel will make you feel welcome and right at home. Comfortable rooms, high-level service, and extremely helpful staff. If you are looking for a high-end luxury stay, W Bali is where you should go.
Check rates and availability for W Bali Seminyak >>>
The name is a mouthful, but this funky hotel is small with only 12 rooms, 70ties style. The studios at Luna2 Seminyak by Premier Hospitality Asia are trendy and colorful, the Space Bar is excellent for sunset drinks and the beach is close by. Splendid choice and centrally located next to KuDeTa.
Check rates and availability for Luna2 Seminyak >>>
Looking for something both close to the beach and to the center? This boutique hotel has both and yet it is quiet and secluded. All rooms are spacious with everything you need, and the villa comes with a private pool. Get yourself pampered by the immense friendly staff and enjoy your stay at Bali Ginger Suites & Villas!
Check rates and availability for Bali Ginger suites & villas Seminyak >>>
Bali food safari's mystery dining tours
Bali food safari offers delicious and mysterious dining tours. Besides our Seminyak tours, we also offer a Jimbaran tour and a Bali street food tour.